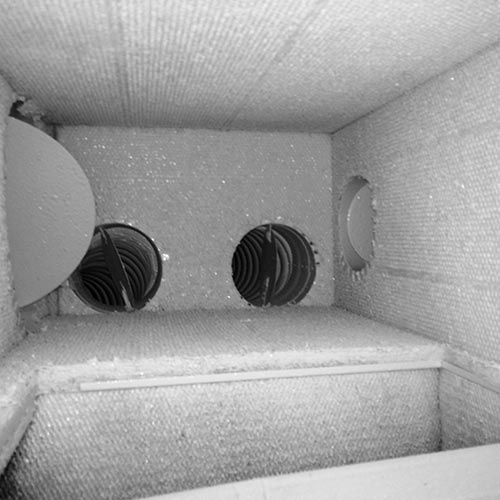 CLT Quality Air Duct Cleaning offers air duct encapsulation services to home and business owners in Charlotte, Concord, Gastonia and surrounding areas. There can be a few different reasons why encapsulating ductwork can be good for your job. When mold and deteriorating insulation board is an issue we offer an encapsulate which is an alternative to replacing.
Our products can seal porous material and everything attached to it while creating a non porous surface. This material is sprayed on as a liquid and drys as a solid. Ductwork encapsulation has anti-microbrial built in to the product to prevent spores from coming back after area is treated. We found encapsulate has also stopped insulation from flaking apart inside your ductwork. Ducts that are insulated on the interior become dry and brittle and eventually flake off and blow through your vents. They also trap odors and debris which keeps circulating through the system indefinitely. Replacing ductwork can very expensive and still bring on the same issues.
Encapsulating is a permanent solution to these issues at a fraction of the cost to replace. With built in anti-microbial the encapsulate has power to resist mold which is superior to replacement as well.
Air Duct Encapsulation Process
Identify areas that can be treated with encapsulate
Block off coils to protect from encapsulate
Make access to trunks and plenum boxes
Spray encapsulate on all interior areas of duct board or insulation
Seal all access points properly
Wait three hours before turning on system so material can dry